Supported independent Living (SIL) is essential support for people with disabilities. The Support package aims to provide support to people with disabilities in their daily tasks to give them a better quality of life.
What is Supported Independent Living (SIL)?
Supported Independent Living (SIL) is NDIS-funded support for people aged 18 and over that allows people with disabilities to have a living arrangement as independently as possible. SIL in NDIS provides a range of supports.
These services can include help with accommodation, bathing, dressing, toileting and eating, provide socialisation, medication reminders, and information on health issues and healthcare availability.
It's for people with high support needs who need help with everyday tasks to manage their everyday life.
Supported Independent Living (SIL) helps people with disabilities to help make decisions and live meaningful life independently. Most of the time, SIL happens in shared living arrangements.
Advance Care Agency offers SIL accommodation in Sydney for people with disabilities, fostering independence through supported Living. The accommodation provides 24-hour support and care to residents.
Who is Eligible for Supported Independent Living (SIL)?
NDIS has many programs and services available. For example, through the NDIS, SIL is designed to help people with disabilities live independently. SIL, or Supported Independent Living, is one of those programs under the NDIS plan.
Not only does the system introduce individualised funding for supported Living, but it also allows those receiving support to participate in the economy as valued members of society.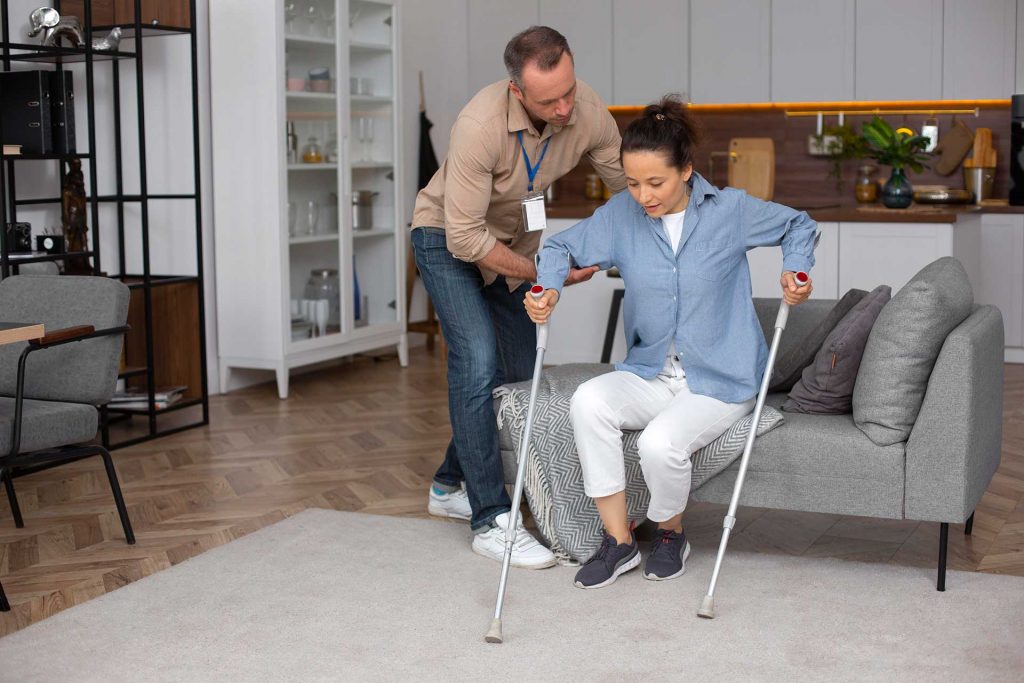 If you have high support needs and are aged 18 and over, you are eligible to live in Supported Independent Living. It means you are not mandated to reside in your own accommodation. Instead, you can choose the accommodation (STA or MTA) based on your needs. If you choose to live at home, you may choose to have a Higher Level of Support, providing more support in the home.
You are eligible for Supported Independent Living if you have the following health issues: Autism, Alzheimer's disease, brain injuries, dementia, early Parkinson's disease (before age 30), epilepsy, severe or chronic mental illness, stroke, and some learning difficulties.
The amount of Supported Independent Living (SIL) funded by the government depends on the level and type of support you need to live as independently as you can.
Likewise, the amount of funding you receive depends on the level and type of support you need to live as independently as you can.
What is SIL Assessment?
SIL assessment refers to the criteria check to understand an individual's daily support needs. To understand the need initially, we need you to start filling and completing the Home and Living Supports Request Form.
After completing the form, we can discuss the home and living option that best meets those needs. In addition, there are discussions with individuals seeking SIL, their family members, or caretakers to understand their needs.
In addition, a review of any medical or allied health reports supplied while applying to SIL NDIS is taken into consideration.
SIL is one of many support options a person with a disability could get where they live. As all NDIS-funded supports must meet the reasonable and necessary criteria, some of the details before considering getting an individual SIL include:
your current situation, goals and aspirations
where you live now, your future home and your living goals
your independent living skills and potential to build on these
supports you need to achieve your home and living goals
information about your day-to-day support needs
reports or occupational therapy assessments
other helpful information about your support needs
any alternative home and living options.
What does Supported Independent Living funding cover?
With the support of the government and the family, the people in the Support Independent Living (SIL) accommodation have several needs and activities that are important to them to help them stay healthy and in their homes for as long as possible. These include:
Support with supervision, safety and security
Assistance with personal care tasks
Assistance with capacity-building tasks (for example, meal prep and cooking, cleaning, and routine development)
Behaviour support and social skill development
Administration of medication
Support for medical appointments
Community access that is not routine or regular (for example, support to complete personal tasks)
Support to get to and from community access activities (where this is the participant's preference)
What is not included in SIL Funding?
Supported Independent Living in NDIS does not cover the following:
Cost of groceries
Rent, board or lodging costs
Utilities – gas, electricity, water, telephone, internet
Household budgeting/bill-paying activities
Expenses related to holidays, including travel costs
Personal care supports while the participant is in the hospital.
Specialist Disability Accommodation (SDA) related costs (such as property maintenance costs, repairs, and vacancy costs)
Ongoing costs and support for vacancies (which is built into the price limit)
Regular community access
Specific funding for staff to attend training for the participant's support needs (which is built into the price limit)
Shadow shifts
Organisational management costs
Allied Health staff, including those employed by SIL provider
Vehicle costs
Temporary Transformation Payment (TTP) pricing
Justice related supports
Community supervision orders
Nursing, medical care and other health-related supports
Items covered in other sections of the NDIS price guide (such as transport costs, assistive technology, personal care while in the workplace, plan management, financial intermediary supports, and clinical or allied health services)
Didn't get answers to all your NDIS Supported Independent Living questions – Contact us to find clarity and confidence now!